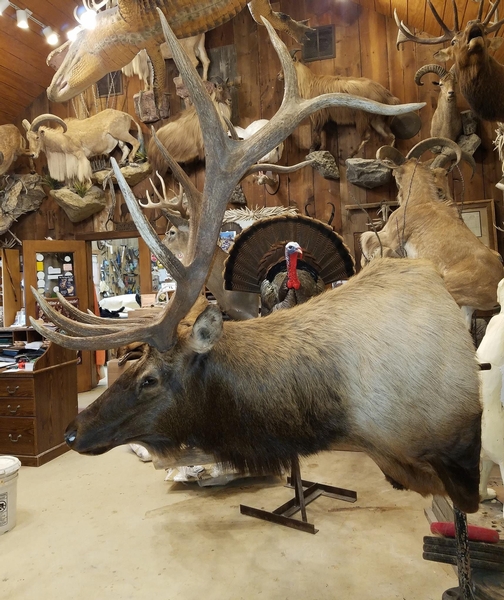 Elk season is officially underway and the rut is finally ripping! It took forever for the bulls to get going with the hot weather we had been having, but it has finally cooled off and they are getting jiggy! Dr Mike Scott was the first to draw blood last week. He took a nice looking 5x5 that came into the pond in front of his blind. Doc is 79 and isn't able to get around too well, but that didn't stop him! He made a perfect 20 yard shot on his bull and it went 100 yards and dropped! Doc saw some beautiful big mule deer buck still in the velvet come into the pond too. There were so many pluses about the hunt that the lack of rutting for the first part of his hunt didn't bother him. He's coming back as long as life lets him!
Then Lance Richards took a really heavy, really old trophy 6x6 bull! Lance drew a tag for GMU 16B and Morgan and Bob had packed a camp a 3 hour hike back into the wilderness to get in the middle of the action! It paid off when Lance was able to connect on his bull with a 30 yard shot. He had a practice shot on a different bull before he took this one... A big ol bull...shot over its back! Sometimes you just need an oops to figure out what not to do on the next chance. That was the first day so he had time to redeem himself! The bull he took was a thick necked herd bull with attitude! They were done with the hunt just before a storm front moved in and swamped us with several days of rainy weather. They will be packing the meat out once all this rain quits!
Walker and Michael are still out in the woods with their hunters. We are anxiously awaiting news of how they have done! Stay tuned and check back for updates. Pictures are going on Facebook as well.
#bigbullelk, #trophybullelk, #NMelkhunting, #archeryelk
Posted in: News, Elk Hunting