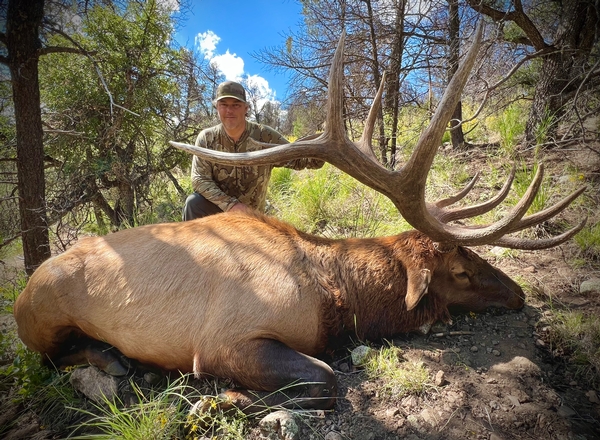 Hunts have never been this hard. Miles and miles are covered on foot. Everyone is worn out, yet the object of interest remains elusive whether it is elk, bear, mule deer or coues deer. We know they are there. We have seen them every year in the same places. Tried and true areas that have ALWAYS produced are barren. Crazy thing is, a few weeks after the season for the particular species ends, there is an overflowing abundance of critters everywhere. What is going on?? Oh sure, we can blame the weather (too hot, too windy, too dry) or we can blame the moon phase (full moon) or we can kick ourselves and say we just didn't look in the right place or hike up that hill or go far enough (they always second guess themselves, but the guides will literally take you to your limit trying as hard as they can to get you in sight of the trophy you have your heart set on.)
We can definitely say that the lack of ability of our hunters to put in the effort required to get to the areas we needed to was a big factor. We try and emphasize that in this country, be it the Cibola National Forest or the Gila National Forest you are going to need to have all the boxes checked if you want to be successful. You will definitely earn whatever animal you are after. A few things to make note of: Being in good physical condition is a must. You need to be able to hike long distances and not just on flat ground but up the rugged mountains we have in our hunting areas. Good boots that are broke in and won't ruin your hunt with blisters and sore feet. Shoot, shoot and shoot some more. Practice squeezing the trigger, not yanking it. Practice become proficient at prone, off of shooting sticks, a limb, a rock, whatever it takes to be prepared. Shoot your bow, not just standing and taking your time. Take quick shots, kneeling shots, practice at all yardages until you can hit the target, the kill zone! This is a must!!!!
A good attitude that accepts defeat gracefully and looks forward to the next chance. You need to be able to enjoy the experience and not base your enjoyment solely on the harvest.
I'm sure there is more that could be said, but you all get the drift. Put down that cookie and get ready for the hunt. We will break ourselves trying our best to provide the experience of a lifetime. Put in for the NM draw and continue to do so until you are successful. It is worth it and we will be ready!!
Happy hunting and God bless!
Posted in: News, Elk Hunting