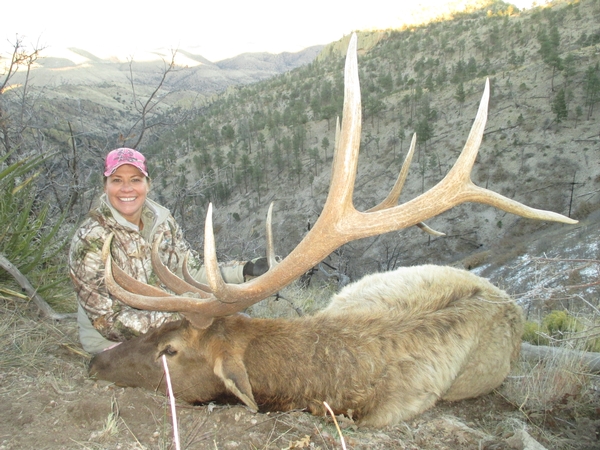 If you consider harvesting a bull over 340 in size and you won't be happy unless you do…well you are not a hunter, you are a killer. You just want to find one, kill it and go home. You don't care about the hunt itself. The beauty of the mountains, the elk you see and listen to bugling all around you or the company of a guide who is putting all their effort in getting you a bull. A big bull! Not many people get to experience that, yet here you are right in the middle of it complaining.
The neatest thing about harvesting a huge bull is the story. Take pictures of where you are. The little things! One of our long time hunters Don Travis takes pictures of the horny toads, the huge grasshoppers and all kinds of interesting plants as well as the mountains and canyons. It's amazing what you will see when you don't narrow your thoughts to one thing and one thing only. I can't tell you how many times Don filled out last night, last light! He was patient, he didn't complain (even though his old knees aren't going to make it up that hill anymore). Find the beauty in the hunt. The experience…not the end result. The most amazing thing is how that frown turns right side up once they killed something. Not how cool the whole hunt was…wow!
I personally have hunted with these awesome guides…I'm biased of course since I had all the top guides taking care of me!! Walker, Michael and Bob led me up the mountain…up and up and up! I was out of shape and it was tough…but I hung in there and it was so amazing when I got to the top and there was a bull the caliber I've never seen up close. It was a beautiful, perfect 6 point clocking in at 350 B&C exactly!! Walker was patient with his mama and helped me get in position to shoot…they said take your time, but not too long!! Haha… It's hanging in our guest house and I'm pretty proud of it. I did it! If you are willing to put in the effort your rewards will be great! The most awesome thing is I received a text at church saying get over here asap! We found one for you!! Whooooo! Pretty cool…I gave God my efforts and worship at church and he rewarded me that afternoon! Wouldn't ever want to do it any other way!!
Posted in: News, Elk Hunting